Simply having a Google My Business (GMB) listing isn't enough to generate more leads, especially as more businesses are competing in local SEO.
1. Ensure your information is accurate and up to date
If your business contact information is outdated, inconsistent or incorrect, the consumer who looked up your business will likely be significantly inconvenienced. These days, even minor inconveniences are enough to lose customers.
You may think this is simple enough to manage, but many businesses fail to fill in accurate on their GMB listing. In fact,
"80% of consumers lose trust in local businesses if they see incorrect or inconsistent contact details or business names online "
2. Choose the right business category
Did you know the primary category is the number one "local seo" ranking factor? Choosing the most relevant primary category as well as additional categories all play a large role in how a business shows up in local searches.
GMB show both Google and prospective customers the kinds of services you provide. For example, a motor mechanic that also sells tyres can choose categories like "tyre shop" and "vehicle inspection".
If you're in the right GMB categories, it will increase the likelihood of your business ranking higher for relevant searches. If you're a plumber, you're much more likely to show up in searches for "plumber near me" if you have "plumber" as your primary category.
Here's how you can edit your Google My Business categories.
Sign in to your Google My Business.
If you have multiple locations, select the location whose category you want to change.
Go to the "Info" tab.
Click the pencil icon next to your primary category. This should show up under your business's name.
Edit your primary category, or click Add another category.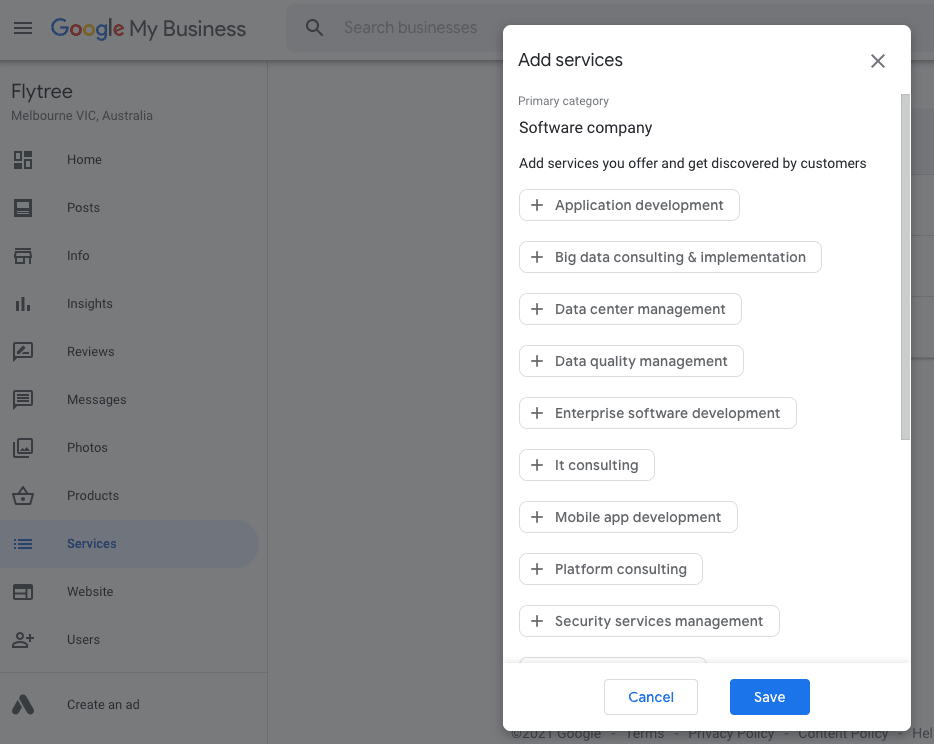 3. Take & upload photos to your GMB profile
The more photos on your business listing, the more likely you are to win new customers. Let's face it. Google dominates search. Google reported that businesses with photos receive 42% more requests for driving directions and 35% more click-throughs to their websites. Let's be honest when you search for a businesses online, you're more likely to click on a business that shows you what their products and offerings actually look like.
Google My Business allows you to easily upload photos to your profile. The photos section can be found on the side menu in your GMB account.
To increase your chances of converting searchers, Google recommends businesses upload more photos. Check out the recommendations here.
Photos provide consumers with a preview of what to expect, and this helps to build trust. The more photos you share, the more leads your Google My Business listing will generate.



4. Get new customer reviews
Do Google reviews help rankings? A steady stream of fresh reviews can have a tremendous impact on your local search ranking. The way that customers find and choose businesses has changed drastically in recent years.
It's important to regularly generate new Google reviews and manage them as they grow. 8/10 of customers read reviews before making a purchase, which is exactly why Google prioritises them as a local SEO ranking factor.

Customers will be able to write reviews on your GMB profile, and those reviews will be publicly visible, so it's important to proactively generate, monitor, and respond to reviews as you receive them.

You can't just expect them to come rolling in on their own. Google business reviews can drive three areas of your business: brand trust, local SEO, and feedback. Google reviews are also free!

For example a potential customer seeking to have a haircut starts their customer journey by searching for "barber near me" on Google.
An average human will choose a business from Google's top 3 search results with the most reviews and highest star rating – which in this case is Beef Barbers.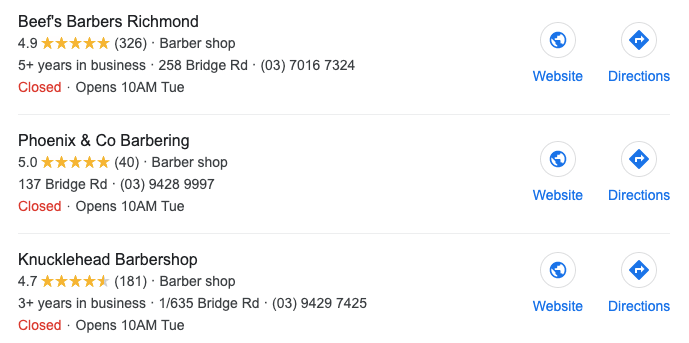 If you've got any questions feel free to reach out, I'd love to hear, learn , understand and get a reply from you.